What is the meaning of coworking space? 
Coworking office spaces mix the traditional rules of entrepreneurship, commerce & creativity along with modern economics to bring forward the concept of 'shared economy'. Briefly explaining, coworking spaces have a vision to create a seamless ecosystem wherein businessmen and freelancers find ease of doing and growing their business.
Why is a coworking space preferable to normal office spaces? 
There is a wide list of specifications that answer the above said question. 
You get to meet like minded people and form a coworking community that you will not get if you had a normal office. Expanding your community is vastly important as your business gains new connections and chances for growth are more.
Coworking offices keep holding parties and events from time to time which increases your chances of meeting new & potential clients along with having fun and relaxing.
You get to learn from big name companies who offer these mentoring sessions to guide small companies and budding entrepreneurs to success. This allows you to gain from the best pioneers in the business.
What are the qualities of a great coworking space? 
There is a list of amenities that shared office spaces provide which relieves you of the hassle of spending expenses on them.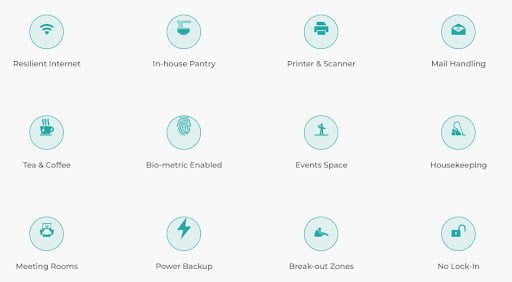 What do coworking spaces offer? 
Coworking spaces are known for their affordable and cheap price quotes and cost is one of the major factors of renting coworking spaces in Gurgaon.
| | | |
| --- | --- | --- |
| Pick Any | Gurgaon  | Delhi |
| Dedicated Desks | 7,000/- | 7,500/- |
| Private Cabins | 8,000/- | 8,500/- |
| Hot Desks | 6,000/- | 6,500/- |
| Part Time | 5,500/- | 6,000/- |
| Day Access | 500/- | 500/- |
| Meeting Room | 600/- | 800/- |
Pay as per your company requirements and no plans are forcefully enforced. Cheap, affordable and flexible, these are the best coworking spaces near you.
How do you choose a coworking space? 
Shared office spaces should be easily accessible to anyone. They should be near the main road so anybody can find it easily. The atmosphere should be inspiring and should be equipped with full amenities. They should be located in the major known areas of a city and major transport areas like airports or railways stations should be closer from their location so in case of meetings clients don't travel long routes and exhaust themselves out.
Our Locations
Gurgaon
1003, DLF Phase 4

SP1, Sector 27, Golf Course Road

LG 06 & UG 06 Grand Mall, MG Road

Sector 44, Delta Square

JMD Regent Arcade, MG Road
Delhi
B1/638, 2nd Floor, Janakpuri

B1/639, Janakpuri
All these cool amenities and reasons to avail, don't miss out on these benefits. Pick your phone and drop a hi at springup@springhouse.in or give a ring on 9899936669.